Happy Halloween!
Flip's counting down to Halloween. He'll be relaxing inside when all the neighborhood kids run from door to door getting candy.
I found this little piece of fabric at The Crafty Crow quilt shop in Boxborough, MA. It took me a short time to quilt it up. I worked on the red work pumpkin pillow on the plane to Alaska. It was so relaxing I can't wait to take another trip.
We visited Salem, MA over Labor Day weekend. These are some of the sights we saw. It's Salem is still fun no matter how old you are.
The closer it gets to Halloween the more stores are open but these guys hang out all year.
There weren't as many shops as I remembered from visiting other years but I managed to find things to buy. And NO this $2 rock DID NOTHING for me!
I always research places before we visit even if we've been there before. This year we decided to have lunch at Hawthorne Hotel in the center of Salem. This hotel has quite a past. It's worth reading about. It's quaint and has a lot of character and great atmosphere. It's also supposed to be haunted.
I was especially interested in it's history. One of the many "recent" stories about this hotel is that in 1970 the cast of "Bewitched" filmed there. This is a statue of Elizabeth Montgomery in the center of town. "Bewitched" was one of my favorite TV shows so it was really fun to see this statue.
This past weekend Kristen made these wonderful brownies. I love pumpkin. Luke loves cheesecake and everyone loves chocolate so I hoped this would be a winner. It was! They are even better after a day or two because the flavors blend together more.
Pumpkin Cheesecake Brownies
Submitted by: SHAKE_IT_CALI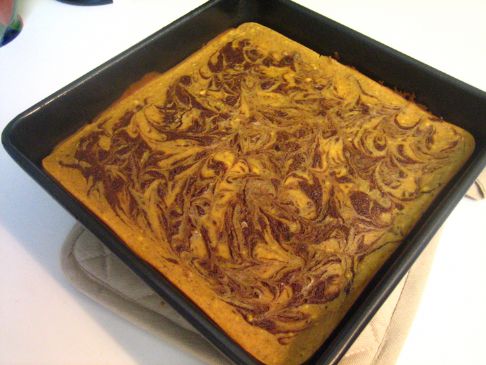 Ingredients
3/4 cup butter, melted




1 cup sugar




1 tbsp pure vanilla extract




4 egg whites or 2 large eggs




1/4 cup all purpose flour




1/4 cup whole wheat flour




1/2 cup cocoa powder




1/4 tsp salt




2 tsp cinnamon




1 T instant coffee





Cheesecake Batter





6 oz neufchatel cheese, softened




2 egg whites




1/3 cup sugar




2 tbsp flour




1/2 cup pumpkin puree




1/4 tsp pure vanilla extract




1/2 tsp cinnamon




1/4 tsp each ground nutmeg and ground cloves
Directions
Preheat oven to 350F. Spray a 9x9" square metal baking pan with baking spray

Beat together melted butter, sugar, and vanilla, then beat in 4 egg whites. Combine dry ingredients and then gradually stir into butter mixture. In separate bowl, beat together cheesecake batter ingredients.

Spread about 2/3 of brownie batter into pan, and spoon cheesecake batter over. Drop remaining brownie batter over cheesecake batter. Swirl the batters using the toothpick.

Bake for 40 minutes, or until toothpick comes out clean. Cool completely on wire rack and chill before cutting and serving.

Number of Servings: 25

Recipe submitted by SparkPeople user CALICAT1977.
So, we've done some stitching and quilting, visited a spooky town, ate great dessert and now it's time to just hang out and wait for Friday!
There's a fabulous 3 story Barnes & Noble in Burlington, MA right near the Burlington Mall. They not only have loads of books on every subject (especially all kinds of art) but a great gift area. I thought this saying was pretty neat. When I read it I thought of our quilt/craft group. The more we share and the more we laugh together the closer we become.
Finally, I hope you have a wonderful

Halloween

and eat lots of candy and can sleep after all that chocolate!!
See you soon!! Thanks for visiting!!